Lights, Camera, Sparkle: Iconic Jewelry in the Movies
Movie magic isn't just about captivating plotlines and stellar performances; it's also about the irresistible allure of the fashion and jewelry that help to bring characters and scenes to life. For years, certain iconic jewelry pieces have left audiences dazzled, standing as timeless reminders of unforgettable film moments. Let's take a stroll down memory lane to revisit some of these unique pieces, and discover how you can get similar looks from Jae's Jewelers.
1. The Heart of the Ocean – Titanic
When we think about iconic movie jewelry, who can forget the breathtaking Heart of the Ocean from "Titanic"? This stunning fictional blue diamond necklace stole the show (and our hearts) just as much as the film's tragic love story. The necklace is based on a real natural blue diamond, the 45.52-carat Hope Diamond. The Hope Diamond is one of the world's most valuable diamonds, worth an estimated 350 million dollars. Get the look with our
Sapphire and Diamond Puff Heart Necklace
a nod to the classic that won't require a to dive to the ocean floor!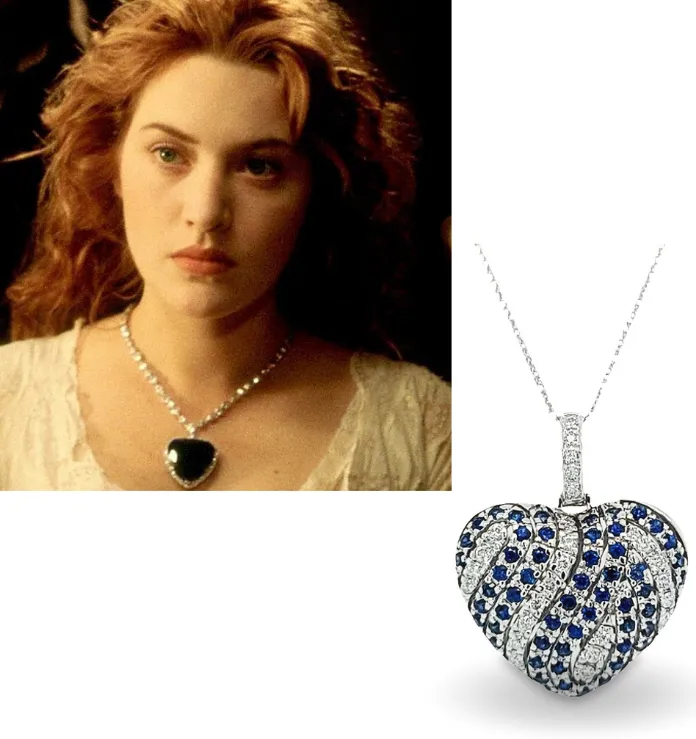 2. Holly Golightly's Pearl Necklace – Breakfast at Tiffany's
"Breakfast at Tiffany's" remains a classic in the world of film and fashion, and Holly Golightly, played by Audrey Hepburn, is one of the most iconic characters to ever grace the silver screen. Holly's multi-strand pearl necklace with a beautiful flower pendant is unforgettable.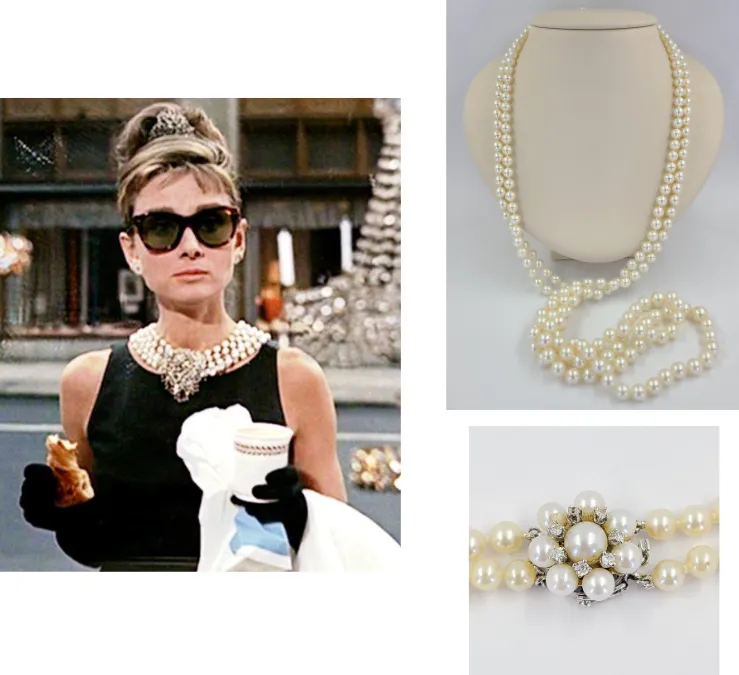 At Jae's Jewelers, you can capture Holly's classic elegance with our very own
Double Strand Cultured Pearl Necklace.
The luxurious strands of pearls, coupled with a floral-inspired clasp, echo the charm and sophistication of Golightly's famous multi-strand pearl necklace.
3. Margot Robbie: A Real-Life Barbie
The Barbie movie premiere was nothing short of a glittering spectacle. Leading the charge was none other than Margot Robbie, who plays the iconic doll. Robbie made an indelible statement on the red carpet, embracing the Barbie aesthetic in a way that was both elegant and playful. She brought to life the enchanting pink world, making us all believe in the magic of this childhood icon once more.
The Australian actress chose a pair of exquisite diamond stud earrings that elegantly framed her face, their radiant shine catching every camera flash. Paired with the studs was an equally magnificent diamond necklace, its sparkle accentuating the overall charm of her look.
Inspired by Margot Robbie's dazzling display at the Barbie premiere? You can channel the same glamour with fine jewelry from Jae's Jewelers. Our collection includes
classic diamond stud earrings
 that perfectly capture the sparkle of Robbie's, letting you shine just as bright at any event. Alongside this, we offer a wide variety of
diamond line necklaces
that add that extra touch of elegance to your look.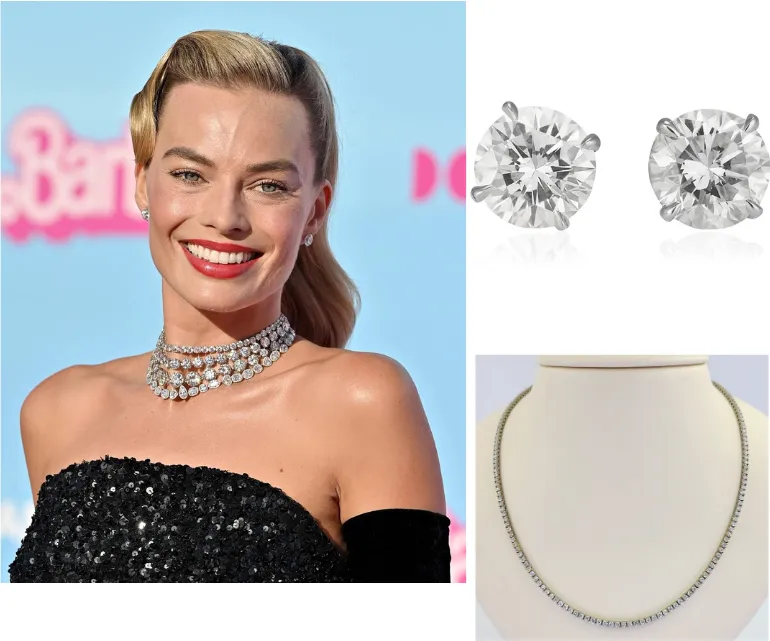 Stepping into the shoes of your favorite movie characters has never been easier!
At Jae's Jewelers, you can enjoy the glitz and glamour of Hollywood's most iconic jewelry pieces. Browse our collection today to find your perfect cinematic match, and remember: life may not be a movie, but there's no harm in adding a little extra sparkle to your everyday scenes.
---